Managed Technology Services
Managed services is the term used to describe outsourcing the responsibility of maintaining of your company's operations. Today, more and more companies are adopting managed services strategies to ensure that they are staying up to date in today's rapidly changing technology landscape.
Here at Assett, we manage the ongoing maintenance of your IT infrastructure, printer and copier services, unified communications, and more. By outsourcing this responsibility to us, you can focus your company's time on reaching your business goals.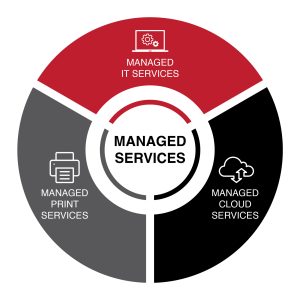 Managed technology services are the secret to successful companies because these services introduce a flexibility within the workplace in which employees are able to work remotely. Whether that be from home, with a customer, or on a business trip, they are always within reach to allow for more efficient workplaces. On top of that, these services allow for greater productivity within the workplace as staff can call or message each other at any time, and collaborate on documents from their own computers.
How Do Managed Services Work?
We apply our services in a simple three step process:
Step 1: Assessment
We will meet with you to develop an understanding of your business goals and objectives. These may include: reduced expenditure, business expansion, increased efficiency and profitability, or the creation of new processes within your company. Using device management tools, we will analyse your equipment to determine how it is used within your company. We will then assess your purchasing process and cultivate a plan that will help you see the best results possible. Then we will meet with you to discuss your current costs and the state of your infrastructure. Then, we will introduce our plan including our go forward strategy, new technologies, key benefits and pricing. 
Step 2: Implementation
Using our findings from your assessment, we will implement the agreed upon plan within your company. Using best-in-class software and hardware that integrates with your current systems, we'll implement rules and processes that will help your business run cohesively. Then, we'll provide training and access to our full-service Technical Support Centre. 
 Step 3: Account Management & Review
Just because our solutions had a big impact doesn't mean we're finished. In our account management & review process we will frequently look at the performance of your managed service program and make sure that its aligned to your goals and objectives.