Assett Professional Services works with both public and private educational institutions to provide managed technology services that improve overall efficiency across schools. With innovative solutions that improve workflow, security and cost-efficiency, we can help your school achieve its goals and focus on education, while we handle the technical aspects. Our recommendations are practical, cost-effective and customized to meet each school's specific needs. We also offer solutions that work with the NSW 2390 government endorsed contract, which covers the purchase or rental of printers, scanners, photocopiers, and multifunction devices.
In both the public and private sectors, our customers include:
Print Management Solutions
Using PaperCut technology, we can implement efficient print management solutions in your school that are cost-effective and user friendly. Simplifying printing across your school allows you to maximise your budget and focus on what matters most: education.
An Output Management system implements "follow you" printing technologies to print from anywhere in the school for your convenience. This utilises a satellite print environment to route jobs to an available printer to print quickly, efficiently and confidentially—important benefits for teachers trying to get jobs done between classes. By combining the right Output Management system with the right multifunction devices and printers, we create easy billing or card scanning systems to make printing simple and efficient while managing costs. This can be done for single departments or entire campuses.
Centralised Print Room
At Assett, we also specialise in centralised printing rooms. A print room in your school helps take the pressure off teaching staff, allowing them to focus on teaching rather than standing around waiting for a printer. Print rooms are able to streamline workflow and provide teachers and other staff with an online submission portal that is customised to their needs.
The installation of these services is quick and simple, having minimal impact on the everyday operations of your school. By implementing print room services, your school's IT team will no longer be burdened with attending to faulty equipment and frozen printers. We offer ongoing print management services to take care of all printing queries and maintenance to relieve your staff.
Interactive Learning
Interactive whiteboards are proven to aid student learning in the classroom. One benefit of installing an interactive whiteboard is increased student engagement by making the learning process more enjoyable. Interactive whiteboards connect to the internet, so the number of learning resources are endless for teachers. They can play educational videos and games, collaborate on worksheets, and conduct group learning exercises. These are also better for the environment, and reduce classroom costs of whiteboard markers and accessories. Costs are reduced further by digitising the learning experience, meaning less money is spent on printing, scanning, and copying.
With cloud technologies, students and teachers are able to collaborate from their own devices on the same projects, whether it be group work, assignment feedback, or regular check ins.
Managed IT Solutions
Secure IT infrastructure is vital in an educational environment, especially when handling sensitive information such as student records. At Assett Professional Services, we offer managed IT solutions to help protect your systems from threats.
Step 1: Initial Consult
We will meet with you to develop an understanding of your goals and objectives. These may include: reduced expenditure, printing security, increased efficiency, or the creation of new processes.
Step 2: Assessment
Using device management tools, we will analyse your equipment to determine how it is used within your company. We will then assess your purchasing process and cultivate a plan that will help you see the best results possible.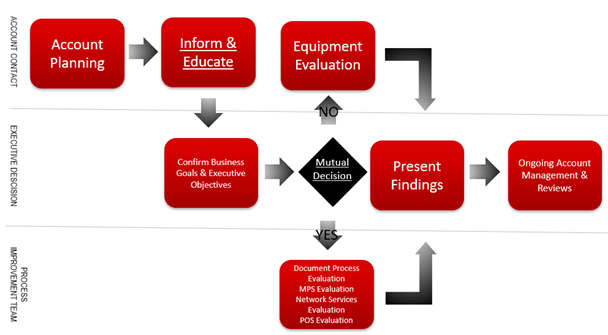 Step 3: Present Findings
We will then meet with you to discuss your current costs and the state of your infrastructure. Then, we will introduce our plan including our go forward strategy, new technologies, key benefits and pricing. 
Step 4: Implementation
Using best-in-class software that integrates with your current systems, we'll implement rules and processes that will help your business run cohesively. Then, we'll provide training and access to our full-service Technical Support Centre. 
Step 5: Ongoing Account Management & Review
While our solutions are now in place, we are not finished. In our account management & review process we will frequently look at the performance of your managed service program and make sure that its aligned to your initial goals and objectives.