From credit unions to wealth management and accounting firms, at Assett Professional Services, we work alongside financial institutions of all sizes to improve security, cut costs and introduce more effective business practices. We also provide managed technology services that improve overall efficiency within a business. With innovative solutions that improve workflow, security and cost-efficiency, we can help your business achieve its goals and focus on output, while we handle the technical aspects. Our recommendations are practical, cost-effective and customized to meet your specific needs. 
Accounting
We offer streamlined account management software that manages and integrates your company's financials, supply chain, operations, commerce, reporting, manufacturing, and human resource activities.
Our aim is to provide you with clever ERP and accounting software to run your business, making it simple for you to access everything you need to run your business in one hub. By integrating all the resources you need into one, easy to use software, you are able to spend more time focusing on building your company and achieving your goals.
Document Management
We offer managed print solutions to ensure that your company's printing and scanning services are efficient and secure. We work alongside you to determine your company's needs and goals, to match you with the best solutions for your company.
Assetts latest generation of multifunction devices and Output Management systems can protect data that's printed, stored and scanned with new security technology that we have available today. Not only protect data from exterior threats such as a network breach or virus, but also from employees who share equipment and networks.
Communication and Data Solutions
At Assett, we provide your company with managed communication services that integrate your phone lines with workplace communication. Give your employees the flexibility to work remotely with call forwarding and digital collaboration. Get in touch today to discuss the best communication solutions for your company.
Make information more accessible to your employees while maintaining your company's security. As employees are required to access client files, an Enterprise Content Management strategy gives all employees increased visibility to better serve customers. With a single electronic repository for files, they can collaborate better and provide the client with faster, more accurate information and service. Importantly permissions-based access protects the security of client confidential information.
Managed IT Services
Secure IT infrastructure is vital in a professional environment, especially when handling sensitive client information. At Assett Professional Services, we offer managed IT solutions to help protect your systems from threats.
Step 1: Initial Consult
We will meet with you to develop an understanding of your goals and objectives. These may include: cost recovery or reduced expenditure, printing security, increased efficiency, or the creation of new business processes.
Step 2: Assessment
Using device management tools, we will analyse your equipment to determine how it is used within your company. We will then assess your purchasing process and cultivate a plan that will help you see the best results possible.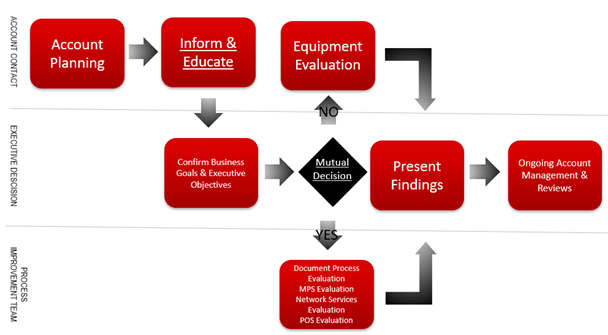 Step 3: Present Findings
We will then meet with you to discuss your current costs and the state of your infrastructure. Then, we will introduce our plan including our go forward strategy, new technologies, key benefits and pricing. 
Step 4: Implementation
Using best-in-class software that integrates with your current systems, we'll implement rules and processes that will help your business run cohesively. Then, we'll provide training and access to our full-service Technical Support Centre. 
Step 5: Ongoing Account Management & Review
While our solutions are now in place, we are not finished. In our account management & review process we will frequently look at the performance of your managed service program and make sure that its aligned to your initial goals and objectives.
IT/Hardware (as a service)
Custom Workflow Integration